Eohippus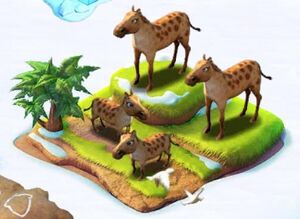 Physical Attributes

Kingdom
Mammalia
Species
Horse
Height
Approx. 1 ft'
Eye Color
Varying
Fur Color
Varying
Diet
Herbivore

Eohippus were small, prehistoric horses who lived during the ice ages.
Traits
Fox-sized mammals, Eohippus were compact herbivores that lived in herds. With their compact build and four sturdy legs, each with a five-toed foot, Eohippus were quick-moving, using their short snouts to graze on vegetation.
Appearances
Behind the Scenes
The Eohippus were intended to be ridden by the hyraxes in Ice Age: Continental Drift[1]
Eohippus, like many animals seen in the Ice Age franchise, was actually not an animal of the Ice Age, rather it lived in the Eocene, long before the Ice Age.
There will be a cameo of two twin Eohippus, Bubbles and Misty, called Minicorns in the upcoming Ice Age: Collision Course.
Gallery
References
Ad blocker interference detected!
Wikia is a free-to-use site that makes money from advertising. We have a modified experience for viewers using ad blockers

Wikia is not accessible if you've made further modifications. Remove the custom ad blocker rule(s) and the page will load as expected.