"Our home is gone. Where do we go now?"
―Peaches to her parents on where they should go now that their home was destroyed.
Herd Valley

The Valley (title was referenced in Ice Age: The Great Egg-Scapade, but doesn't entirely have a name) also called Herd Valley was part of a lush continent, probably South America, that consisted many ice caped mountains, multiple hills, and lush landscapes. Throughout this valley, there are many different landscapes from the icy lakes, to the jungles, to the colorful woods, and to the warm lakes. Unlike Ice Valley, this valley seemed to lack the amount of snow and ice, as well as cold climates too. This area was inhabited by many animals and became the new home to the animals of Ice Valley due to the continents shifting. Herd Valley itself seemed to have a large effigy of a hyrax (which had resembled the Statue of Liberty) at the bay, created by a group of hyraxes. The large statue was later moved to a giant hill top area.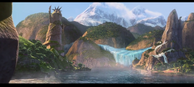 History
Herd Valley, alongside of the continent that it was apart of, was found by a village of animals who had voyaged the seas on an ice ship in search of a new home, after their old home, Ice Valley was destroyed due to the shifting of the continents. Located near the bay, was a effigy of a hyrax (which had resembled the Statue of Liberty), created by a group of hyraxes. Therefore, the new land became the home to the animals. A few years later, Herd Valley itself was then struct by a meteor shower, with most of the land being destroyed, along with the statue of the hyrax, causing all the animals to flee in search of a new home.
Appearances:
Ad blocker interference detected!
Wikia is a free-to-use site that makes money from advertising. We have a modified experience for viewers using ad blockers

Wikia is not accessible if you've made further modifications. Remove the custom ad blocker rule(s) and the page will load as expected.