Hockey Rink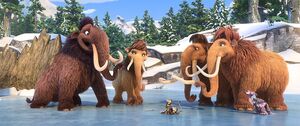 This Hockey Rink was a frozen lake that Manny, a mammoth, and his daughter Peaches, played hockey on.
History
When Peaches first was on the ice, Manny held her until she was ready to go by herself. Manny his daughter play hockey with a turtle shell and sticks on this hockey rink for spare time.
Appearances
Ad blocker interference detected!
Wikia is a free-to-use site that makes money from advertising. We have a modified experience for viewers using ad blockers

Wikia is not accessible if you've made further modifications. Remove the custom ad blocker rule(s) and the page will load as expected.