Ice Age: Collision Course Releases in July 15, 2016 00:00:00 -0500 Javascript disabled.
The Ice Age Wiki is an online encyclopedia that anyone can edit, based on the Ice Age series of movies released by Blue Sky Studios. This wiki strives to be a comprehensive reference for the Ice Age franchise including the feature films, animated shorts, movie novels, comics, video games and books. The wiki launched on December of 2008 and now has 486 articles. As you read about the Sub-Zero Heroes' adventures through prehistory, visiting crazy, strange places, and outrageous adventures, we hope this site functions as a fun and informative guide. You can register to keep track of your contributions.
About | COC | Manual of Style | Policies | Chat

WARNING: This wiki contains spoilers. Most have been tagged, but please read at your own risk!
For more information, please view the site's Spoiler policy.
November 5, 2015

Ice Age's official Facebook revealed the official characters for Ice Age: Collision Course! Surprisingly, Buck's returning among lots of new characters.
June 9,2015

Ice Age 5's official title has been revealed as Ice Age: Collision Course!
August 10, 2015

Ice Age: Collision Course has a new release date announced as July 22, 2016.
December 23, 2013

Ice Age 5 has been announced! and is schedule for July 15, 2016 release!
June 13, 2012

Ice Age: Continental Drift was released today in the United States.
August 4, 2011

Variety has revealed more new cast members for Ice Age: Continental Drift. This includes Joy Behar, Nicki Minaj, Nick Frost, JB Smoove, Heather Morris, Josh Gad, Kunal Nayyar and Alain Chabat. Alan Tudyk from the first two movies will make a comeback in the fourth installment.
Link
April 27, 2011

Fox has signed up a big rooster of new cast members to Ice Age 4 including Jeremy Renner, Jennifer Lopez, Wanda Sykes, Keke Palmer, Aziz Ansari, and rapper Drake. Renner will voice Gutt self-styled master of the high seas, and Lopez will portray Shira, Diego's new love interest. Link.
January 6, 2011

The new Ice Age short Scrat's Continental Crack-up can be viewed here at Apple Trailers.
December 19, 2010

A brand new Ice Age short titled Scrat's Continental Crack-up will be shown in theaters with the film Gulliver's Travels from December 26. And as the title says, it will star Scrat
September 9, 2010

Fox has announced a 3D home video version of Ice Age 3 that can play on any TV and includes 4 pairs of glasses. Amazon.com
May 5, 2010

Anyone in for fourths? Well your in luck! 20th Century Fox has announced that a fourth Ice Age movie is underway. Tentatively titled Ice Age: Continental Drift, it is scheduled to be released on July 13, 2012.
February 23, 2010

According to a source coming from the New York Times, Blue Sky is planning a fourth Ice Age film, the film is at the beginning phase, with the executives making contracts with the voice talent, you can check the news article here.
---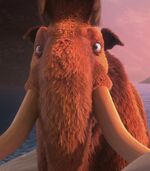 Manfred, known more commonly as Manny, was a mammoth that led a herd of different animals brought together after various adventures and experiences.
Once a devoted father and husband, Manfred loved his wife and child dearly, protecting them well until a band of humans on the hunt came between them. Manny attempted to fend them off but was unsuccessful as his wife and child were killed. This left Manny embittered with the world at large, being cold and indifferent towards other creatures. (Read More...)

Whose your favorite character from Ice Age: Continental Drift?
Ice Age is a registered trademark of Blue Sky Studios and 20th Century Fox. All text, audio and images are the intellectual property of Blue Sky Studios and 20th Century Fox. This site is not endorsed by or affiliated with Blue Sky Studios, 20th Century Fox or their licencors. The operation of this site is believed to fall under the United States "fair use" copyright laws.
For more information, click here.