"OK, lead the way...didn't get the name."

Although this article is based on canonical information, the actual name of this subject is pure conjecture. Please see the reasons for this title in the "Behind the scenes" section below, and/or the relevant discussion on the talk page.
"Look around; you're in a bowl. Bowl's gonna fill up, ain't no way out."
―The Lone Gunslinger to the herds of animals about the valley
Ice Valley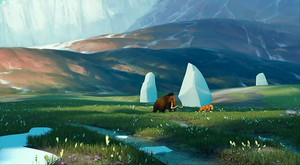 This Ice Valley was a vast expanse of land in which scores of animals lived. It was destroyed when the ice dam broke flooding the valley.
History
A valley situated around great walls of ice and snow, the Ice Valley was inhabited by herds of animals, who enjoyed the change of climate, which brought on flowers and grass, trees and shrubbery instead of ice and snow. Notably, however, the animals enjoyed the waterpark, a naturally-formed series of water slides and pools that had taken shape from the melted ice.
Most animals visited the waterpark and lived peaceably in the Ice Valley until it was brought to their attention by a grim vulture known as the Lone Gunslinger that a flood would soon come: behind the icy walls forming the waterpark was a vast expanse of meltwater that could flood the land, turning it into a seabed. The valley, as the vulture said, was a bowl that would fill up with no way out unless they could all reach the end of the valley, where a boat that was once a fallen tree existed that could keep them all safe. The animals took the warning and fled at once, hurrying for the boat.
The ice that kept the waters out soon broke under the pressure of all the water, resulting in a vast flood that submerged the land, leaving everything underwater, until one saber-tooth squirrel named Scrat, who was trying to escape the flooding valley by scaling the other wall with his acorn as a pick, mistakenly formed a large crack that flushed all the waters out, leaving the Ice Valley.
The boat, which carried most of the animals escaping the floods to safety, landed on solid ground once more, so that all the animals left it and stood on solid ground again, when a great herd of mammoths, animals thought long extinct, passed by the valley. The other herds of animals turned suit and left it as well, some remaining behind.
Appearances
Ad blocker interference detected!
Wikia is a free-to-use site that makes money from advertising. We have a modified experience for viewers using ad blockers

Wikia is not accessible if you've made further modifications. Remove the custom ad blocker rule(s) and the page will load as expected.