Jungle of Misery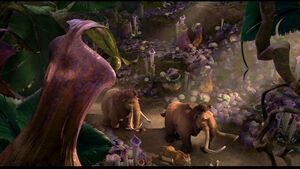 The Jungle of Misery is a location in the Dinosaur World. This jungle's main inhabitants are large carnivorous plants. Some plants use their fruit to lure their prey into their mouths. It is also home to gigantic butterflies.
Buck led the Sub-zero Heroes through it during their search for Sid, the group sleeping over night within it.
Gallery
---
This article is a stub. You can help Ice Age Wiki by expanding it.
---