List of references to Ice Age in miscellanea
Talk

0
463pages on
this wiki
This is a list of references to Ice Age in miscellanea.
Advertising
McDonalds released a commercial in 2009 for their Happy Meal. The commercial has Scrat sniffing about for his acorn before finding it and finding a Happy Meal nearby. Scrat steps closer, but the Happy Meal is pulled away: Scrat steps in and embraces it, standing directly on an "X" carved into the ice, at which point a dinosaur foot steps on him, flattening him into the ice. Scratte appears, takes the acorn and the Happy Meal with her, and Scrat pokes his head out of the ice, only to have it flattened with a rock on which the then-upcoming film's logo is engraved.
Television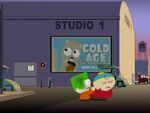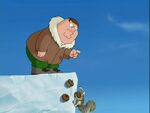 Family Guy, another animated comedy show, sees Scrat make an appearance in the episode Sibling Rivalry. Scrat found three acorns embedded in a cliff and Peter Griffin, the show's protagonist, stands on the cliff's edge and calls out that they are his nuts, to which Scrat leaps at Peter, attacking him. Chris Wedge reprises Scrat's role.