Momma's Cave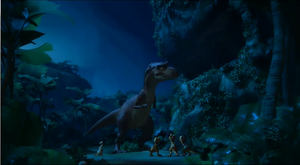 Momma's Cave is where Momma, Egbert, Yoko, Shelly and Sid went to seek shelter for the night from Rudy.
Role
Momma's Cave was where Momma Dino took her three little hatchlings, Egbert, Shelly, and Yoko (as well as Sid), to rest up for the night as well as to seek shelter. At first she left Sid on the jungle floor to sleep for the night, but after hearing about the fact that his friends may have yet forgotten all about him, she starts to have a bit of sympathy for him and decided to let him sleep in their cave for the night. Minutes later, right after Momma Dino tucked her head into the cave, while Rudy passed by.
Ad blocker interference detected!
Wikia is a free-to-use site that makes money from advertising. We have a modified experience for viewers using ad blockers

Wikia is not accessible if you've made further modifications. Remove the custom ad blocker rule(s) and the page will load as expected.