Pangaea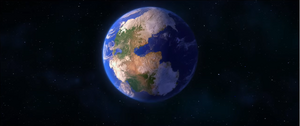 Details

Sub Locations
Earth
Inhabitants
Mammals, Reptiles, Insects, Vegetation, Matter

Pangaea, Pangæa, or Pangea (from Ancient Greek πᾶν pan "entire", and Γαῖα Gaia "Earth", Latinized as Gæa) was the supercontinent that existed during the Paleozoic and Mesozoic eras about 250 million years ago, before the component continents were separated into their current configuration.
The name was first used by the German originator of the continental drift theory, Alfred Wegener, in the 1920 edition of his book The Origin of Continents and Oceans (Die Entstehung der Kontinente und Ozeane), in which a postulated supercontinenPangaea played a key role.
Pangaea is referenced in the Ice Age short "Gone Nutty", in it, Scrat caused continental drift accidentaly.
Ad blocker interference detected!
Wikia is a free-to-use site that makes money from advertising. We have a modified experience for viewers using ad blockers

Wikia is not accessible if you've made further modifications. Remove the custom ad blocker rule(s) and the page will load as expected.