Synopsys: the final scene appears in Ice Age Collision Course (2016).
Plot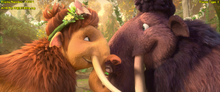 After stopping the asteroid, Sid build the wedding for Julian and Peaches Manny accepts his daughter has to let go of the past She would make her own family and future, As Peaches hugs her family, AsEllie put the headband on her head and walk towards Julian, Manny passes his trunk to Peaches, to his, Then a hyrax Asks they will marry both. Then they both got married, Together Brooke sang My Superstar for Julian and Peaches wedding as well. for their wedding as well. While dancing, Julian accidentally bumped into Manny and became scared. But soon Manny joined in dancing with his daughter's new husband, Peaches and Ellie and also Diego, Shira, Lily Start, Andrew Aardwark, Crash, Eddie, Roger, Gertie, Gavin, Buck (and also Neil deBuck Weasel, Pytaghorus Buck, Robo Buck), Bronwyn, Sid and Brooke dance with the mammoths.
Ad blocker interference detected!
Wikia is a free-to-use site that makes money from advertising. We have a modified experience for viewers using ad blockers

Wikia is not accessible if you've made further modifications. Remove the custom ad blocker rule(s) and the page will load as expected.