"Will you be my mate for life?"
―Sid proposing to Francine.
Proposal Area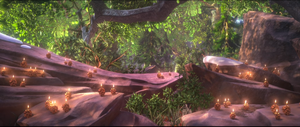 The Proposal Area was a romantic place put together by a ground sloth named Sid. He was planning to propose to his girlfriend, Francine at this proposal area. Sid hired a Mariachi band to help impress her too.
History
When he brought her to this proposal area, he proposed, showing her a pearl in a clam shell. But before he could finish, Francine broke up with him. 
She said he was too clingy and that their date was only 14 minutes.
Description
The proposal area has many rocks, with lit candles all over them. There are lots of flower petals scattered over the ground as well, to make it romantic. It has a cake with two sloths on the top. It had a rock archway and a wedding area as well. The wedding area part had a hyrax ready to marry Sid and Francine together. It had flower petals in put together in line for the wedding as well.
Appearances