Sid's Grandmother
Talk

1
464pages on
this wiki


---
This article is a stub. You can help Ice Age Wiki by expanding it.
---
[[Image:|300px]]
Sid's Grandmother
Character information
Species
Ground sloth
Gender
Female
Other names
Granny (by Sid)
Fur/Scale/Skin color
Faded purple with scraggly grey scalp hair
Eyes
Blue
Friends
Precious (pet)
Sid (grandson)
Sid's Family
Fate
Quote
"She'll outlive us all, you know that, right? Yeah, the spiteful ones live the longest." (Ice Age: Continental Drift)
Appearance information
Feature films
Ice Age: Continental Drift
Shorts
Books
Video games
Voice
Wanda Sykes[1]
[Source]
Sid's Grandmother (also known as Granny) is a character in Ice Age: Continental Drift. She is a wizened old sloth who's the grandma of Sid.
Biography
Sid's crotchety grandmother becomes a large part of the adventure after accidentally stowing away on the barge with Manny and the gang as they head out to sea. Extremely near sighted and highly opinionated, (a comedic combination) Granny causes loads of trouble for Sid and the guys, especially when she wanders off looking for her thought-to-be deceased pet, Precious.
At sea
"I can't believe this. You slept through that storm? Ah, I slept through the comet that killed the unicorns."
―Granny to Manny on her sleeping through a storm. &nbsp
A storm had come by, trapping Manny, Sid, and Diego on an ice floe peppered with trees, stumps, and leaves as it drifted out to sea far from land, even though Granny had slept through the whole storm curled up in a hollow dead tree. Irritably muttering that she wanted to remain undisturbed, Granny used her walking stick to poke Diego in the eye in annoyance at being woken up. After Manny had pulled her out of the tree, she had landed on Sid, with Manny in astonishment at her having slept through the whole storm, undisturbed. Dismissively, Granny claimed to have slept through the comet that wiped out the "unicorns" and, without paying mind to where she was walking, fell off the floe into the ocean. Sid ran towards the edge in panic to help his grandma, but she brushed him off, relaxing in the ocean water at her first bath in decades. Sid asked the others to do something and he was thrown in the drink after Granny, pulling her back to the floe, though Granny, irritated as ever, took some blows to Sid's head with her walking stick, angrily demanding that they look away as she dripped dry.
Personality and traits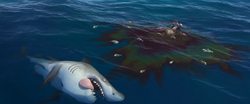 Granny was apt to become irritated by others easily, hitting at any that annoyed her with her walking stick. Unkind and bitter to all, Granny didn't express gratitude to anyone that helped her.
She was stooped and shrunken with age, being devoid of the buck teeth typical to sloths or any of her other teeth. Granny used a walking stick which doubled as a weapon with which to hit people who bugged her and she wore a shawl-like patch of grey fur over her faded purple pelt, which hadn't seen a bath or washing in decades and released enough oil to cause water around her to develop a bright sheen and kill off several fish once and a shark she stepped into water. Along with this, Granny's scalp hair had become thin and grey, to the point of being scraggly.
Appearances
Quotes
(To the sloth family) "I'll bury you all and dance on your graves!"
(To Sid about chewing the apple for her) "Hey! Can you chew this thing for me?"
(To Gutt) "Such a nice boy." (pokes Sid with her stick) "Why can't you be more like him, Sidney?"
(To Pirates) "Mmm, mmm, mmm. Ya'll have some ugly goldfish!"
"If they kiss, I'm gonna puke!"
(talking to Manny) "I'll push him overboard you guys say it was an accident"
"Ah, I slept through the coment that killed all the unicorns."
"Hey Sidney"
"No way! This is my first bath in decades!"
"Well, hello!"(First meeting the male siren sloth)
"Dang nabbit im trying to sleep!"
"You wanna get me outta here!?"
"Come on pretend Im'a desert that should motivate you"(to Manny)
"Thanks for drawing my bath Sidney"
"Get off of me"
"What you peep'n toms all looking at!? (Talking to Manny and Diego) "Lady can't take a bath in peace? *mummbles* "I outta..."
Behind the Scenes
---
This article is a stub. You can help Ice Age Wiki by expanding it.
---
Granny is voiced by Wanda Sykes.
References