Space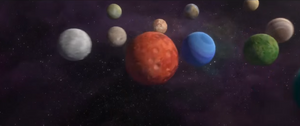 Outer Space, simply known as Space, is a large airless location, holding our Solar System and planets. Space may look fairly empty but there are over 1,000,000,000,000,000,000,000 stars.
History (Ice Age: Collision Course)
Scrat, a saber-tooth squirrel, trying to find a place to store his precious acorn found himself in a Frozen UFO and accidentally flew off into space, crashing into the planets. He made a small reddish orange planet hit into Jupiter, starting the small sandstorm on the planet nicknamed the "Red Eye". Scrat also mistakenly crashed Saturn into a ring and created the Solar System. He witnessed two gray planets crash into one another, creating Asteroids. The planets ended up creating a giant asteroid, that Scrat had mistakenly cracked with his acorn and sent hurtling towards Earth. A few days later, when Scrat prepared to go back to Earth, he ended up accidentally crashing into the asteroid, causing it to move faster towards Earth. But the asteroid was diverted by a group of animals, causing it to fly back into space. Later on, Scrat ended up wiping all life, water, and vegetation on Mars, as it looked a lot like Earth when his ship was out of control.
Appearances