Starts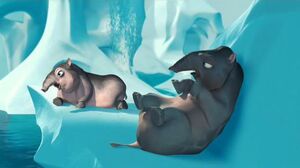 Physical Attributes

Species
Palaeotherium
Gender
Mr. Start (male)
Mrs. Start (female)
Skin Color
Gray

Biological Information

Status
Unknown




Mr. and Mrs. Start are two palaeotheriums who appear in at the beginning of Ice Age: The Meltdown. They are seen resting at the Waterpark complaining about the heat. The ice Mrs. Start was sitting on cracked and she fell into the water.

Mr. Start was voiced by the late Joseph Bologna and Mrs. Start was voiced by Renée Taylor.
Ad blocker interference detected!
Wikia is a free-to-use site that makes money from advertising. We have a modified experience for viewers using ad blockers

Wikia is not accessible if you've made further modifications. Remove the custom ad blocker rule(s) and the page will load as expected.